Feeling a little edgier today than usual. Actually, a lot edgier. Thought I'd play around with the stuff I own because shopping is not going to be on my list of things to do for awhile... at least until I find a paying job and get that first paycheck, which needs to be soon as my savings is running close to zilch. Especially with my weekend trip to sinful Las Vegas and all. Mind you, I sinned not. Well, maybe a little. I lost a dollar to the stupid slot machine. And consumed copious amounts of alcohol. But, stupid shit such as blacking-out and throwing-up are not found anywhere near my lexicon, thank goodness.
For those of you who have yet to make your way to Vegas and club XS, gooooooooooooooo!!! It's the largest, most beautiful club I've ever been to. There are beds laying atop the pool water and you can take your shoes off and dance in the ankle-deep pool water. Can't get much better than that. Can't get much better than that at all.
I've been doing a lot of soul-searching and serious thinking this past week, and I've come to the conclusion that I'm going to need to make some serious changes in my life. I'm about to turn 23 in a few months, and I feel I've been treading in the same place for years. Something needs to change and I'm pretty sure I'm the only one who can do the changing. Guh.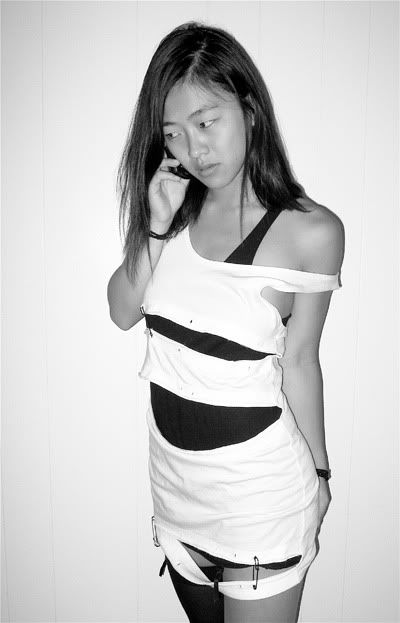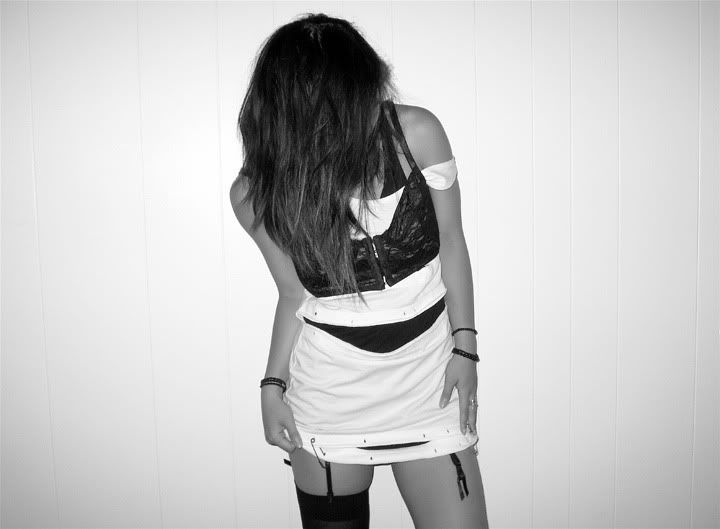 Top: Target Dress: Stolen GF's Club Socks: a Halloween store Garter-thingie: H&M Shoes (not pictured): Alice & Olivia for Payless Bra-set (bra + corset): UO